Building global bridges, not walls, needed now
Share - WeChat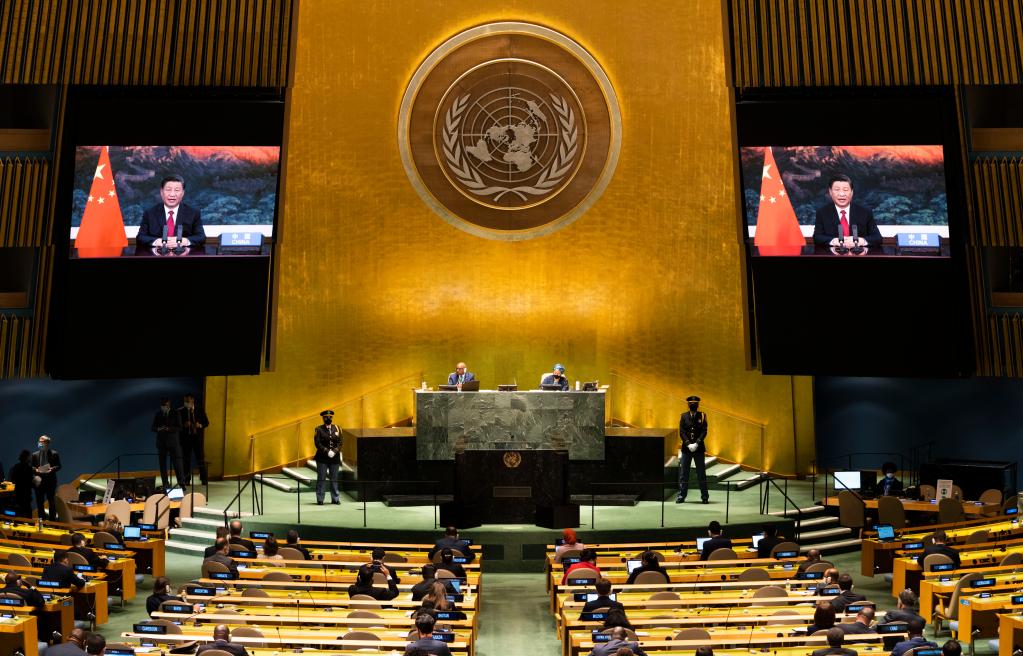 咪乐|直播|盒子
列宁将无产阶级政党定位为无产阶级的最高组织形式,是工人阶级的先进部队、觉悟的部队。
In expounding his vision of a community with a shared future for humankind, President Xi Jinping remarked while addressing the general debate of the 76th session of the United Nations General Assembly via video link on Tuesday that "the trend of peace, development and advancement is irresistible".
On Sept 28, 2015, Xi delivered a speech to the UN that focused on making "concerted efforts to build a community of shared destiny for mankind". In his address last week, he emphasized that the global human community with a shared future can only be achieved through dialogue, development, mutual respect and cooperation.
At a time of global difficulties in combating COVID-19 and climate change, Xi has given the world new confidence by declaring that humanity will surely prevail and China is committed to development for all. As a world tied to a shared future, fighting the challenges together in a coordinated manner is not an option, but the necessity of the time to ensure the peaceful coexistence and common future of present and future generations.
The world must come out of political gaming or zero-sum games over COVID-19 or any other challenge. The policy of putting people and people's lives first, rather than putting country first, should be adopted. Science-based solutions and scientific guidelines are required to defeat the pandemic, not political maneuvering.
China is matching its words with deeds, as Xi calls for making vaccines a global public good, available without discrimination, and pledges more Chinese vaccine doses to developing countries and more funds and vaccine doses to the COVAX global vaccine initiative.
Responding to climate change and creating a community of life for humans and nature is part of the Global Development Initiative that Xi called for on Tuesday to create harmony between humans and nature.
China has already launched multiple initiatives toward the goals, including its targets of peaking carbon emissions before 2030 and achieving carbon neutrality before 2060. Its 14th Five-Year Plan (2021-25) provides concrete targets to move on the path of sustainable development.
Xi's announcement that "China will not build new coal-fired power projects abroad", coupled with his pledge of support for other developing countries' efforts on green and low-carbon energy, will bring the global Belt and Road Initiative to a new era of high-quality, innovation-driven development.
Indeed, securing a better future of the planet demands investments in technology development and innovative solutions. However, technology advancement should not be used as tool to enhance dominance. Instead, the world needs to work on equitable access to technology and solutions. The technology must be used to enhance the productivity and well-being of people, to assist poor countries in realizing the UN's 2030 Agenda for Sustainable Development, and to contribute to "a global community of development with a shared future" as Xi said.
President Xi has made it crystal clear that the world needs to jointly overcome difficulties "to build a better world".
There is a need to build bridges, not walls. Our common challenges do not offer the luxury of pursuing a country-first policy, as such an approach would be disastrous and ensure failure for everyone, irrespective of their strengths or capabilities. The only way out from the present challenges is cooperation based on the principle of win-win cooperation.
In a global community, there is no need for reckless competition. It is time to say goodbye to country-first policies and look for avenues to enhance win-win cooperation. Xi has again assured the world that China will never bully or attack anyone and will never be hegemonic.
On the contrary, China will work with all countries by adhering to principles of mutual respect and win-win cooperation as it pursues common development, advocates peace, development, equity, justice, democracy and freedom.
While the world strives for development, Xi's commitment to people-centric development should be heard in earnest. This approach favors a decent livelihood for everyone without any discrimination, and it respects the dignity of every individual and country, irrespective of their development status.
In Xi's words, we should "make sure that development is for the people and by the people, and that its fruits are shared among the people". No doubt this is the best definition of democracy with Chinese characteristics.
Xi also underscored the significance of dignity and respect for everyone. He advocated an enhanced role for developing and poor countries in global decision-making and governance. True multilateralism is conducive to inclusive growth implemented with the true spirit of the UN's Sustainable Development Goals. The implementation must be assisted by cooperation from the developed countries with the principle of equality and respect.
The United Nations and international law play important roles for a peaceful and prosperous future for all. Xi called for a central role for the UN in ensuring security, development and human rights. It is necessary to uphold the global system and order.
Thus, there is a need to promote dialogue and inclusiveness over confrontation and exclusion, a principle for which China stands firmly. Dialogue and inclusiveness are crucial to combating common challenges and ensuring a better global community with a shared future.
The author is CEO of the Asian Institute of Eco-civilization Research and Development in Pakistan. The views do not necessarily reflect those of China Daily.